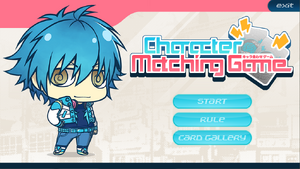 The
Character Matching Game
is a mini game that is included as an extra in
DRAMAtical Murder re:connect
. The game includes art drawn by the Japanese artist
Yuupon
.
Description
The game consists of 19 levels and 20 different cards, each featuring a character. Excluding Aoba, each character is based on levels, and all of them have different abilities to help reaching the next level.
Character Abilities
Clear (Mask)
Koujaku (Bad ending version) - Able to slice cards
Noiz (Good ending version)
Mink (Re:connect version)
Clear (No mask)
Toue - Able to stop user from using special ability.
Aoba (Inner)
Ren (Human)
Sei - Able to reveal all the cards for a brief second.
Gallery
References
Ad blocker interference detected!
Wikia is a free-to-use site that makes money from advertising. We have a modified experience for viewers using ad blockers

Wikia is not accessible if you've made further modifications. Remove the custom ad blocker rule(s) and the page will load as expected.